What is OT
Occupational therapy is a treatment that focuses on helping people achieve independence in all areas of their lives. For kids with various needs it offers positive, fun activities to improve their cognitive, physical, and motor skills and enhance their self-esteem and sense of accomplishment.
Occupational therapists, trained in neuromuscular, cognitive, perceptual, and developmental functioning; view each client holistically, taking into account strengths and needs in each area of his or her life, in each role or "occupation" the client holds.
For children, a primary role is to experiment and participate in the world around them to learn and grow; this often occurs during play. "Play is a child's work". Other roles for children are being a member of the family, being a friend or playmate, and being a student in an educational setting &/or extracurricular activity.
Occupational therapy evaluations take into account:
Core body strength and endurance
Gross motor skills
Fine motor and hand writing skills
Visual motor & visual perceptual abilities
Oral motor skills
Sensory processing
Self-regulation
Ocular motor function
Social-emotional status
Activities of daily living (ADLs)

Use of utensils & cup
Use of oral structures for eating
Dressing & undressing (and fastening clothing)
Organization & sequencing of tasks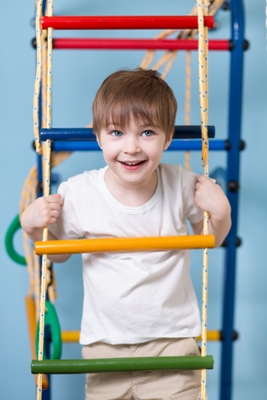 Treatment is geared towards improvement in identified areas to reach age-appropriate levels. During occupational therapy (OT) sessions component skills are addressed through playful interactions with the therapist and the therapeutic environment. Activities for home and/or school are also suggested to maximize each child's success in all environments.
Common Diagnostic Categories Treated With Occupational Therapy:
Neuromuscular conditions such as Cerebral Palsy
Poor motor coordination
Sensory Processing Disorders
Learning Disabilities
Attention Deficits
Poor self-regulation &/or organization of behavior
Developmental issues related to prematurity and/or low birth weight
Autism Spectrum Disorders
Developmental disorders
Down Syndrome
Genetic Disorders
If you need more information or are interested in an evaluation, please contact us.